The SABRE Awards is the world's largest and most prestigious PR awards programme, recognising superior achievement in campaigns that demonstrate the highest levels of strategic planning, creativity and business results in North America, EMEA, Asia-Pacific, Latin America, South Asia and Africa.
Out of more than 600 entries across the EMEA region in this year's competition, Hanover Dublin has been shortlisted for the "Status Go" campaign, in collaboration with Grant Thornton Ireland, in the Professional Services Industry category.
The awards are delivered by Provoke, formerly known as The Holmes Report, the authoritative voice of the global public relations industry and the EMEA finalists have just been announced.
Commenting on the shortlist, Lorna Jennings, MPRII, Hanover Communications, Managing Director said: "We are delighted to be announced as a finalist in the Professional Services Industry category in the most prestigious PR awards programme in the world. This achievement marks a significant milestone in the evolution of Hanover Dublin, as a business, and in the growth of our Strategic Corporate Communications practice. We are very proud to have the quality of our work, in the Irish market, recognised at EMEA level. Our professional and financial services expertise across Hanover, and particularly in the Irish market has been a core driver of our growth since opening our doors in Dublin in late 2016. It has been an absolute pleasure to work with Grant Thornton Ireland since January 2019, and we look forward to continuing this very successful partnership, for years to come".
Commenting on the "Status Go" campaign and Grant Thornton's collaboration with Hanover Dublin, Ciara Bourke, Director, Marketing and Business Development Grant Thornton Ireland said:  "Hanover helped Grant Thornton embed the meaning and key messaging of the "Status Go" campaign across all the firm's communication streams in Ireland. This was the perfect approach to successfully involve all business units and strategically target all key internal and external stakeholders.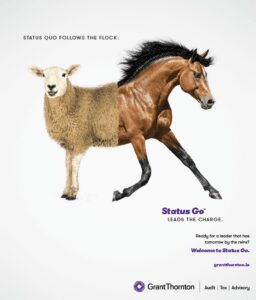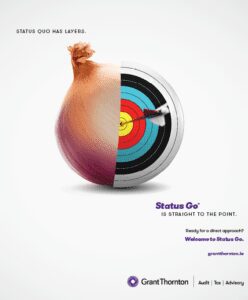 The essence of Status Go became the "red thread" through all our communications and this has been invaluable to us, as we continue to work on creating a solid corporate reputation and standout "Institutional Image", which sets us apart from our competitors and continues to position us as a leader in the Irish Market.
The seamless integration of all PR and Corporate Communications activities with the very powerful advertising element of the campaign, produced a complete and impactful end result – a campaign that was able to sustain momentum, by "challenging the status quo". The campaign also aligned perfectly with the firm's Marketing and Business objectives.
The communications work Hanover leads out on, allows Grant Thornton to build robust, long lasting and influential relationships with target audiences and stakeholders, including the media, our clients and prospects.
We see Hanover as true partner, in helping us achieve our goals, as we continue to grow as a firm and brand."
Hanover Dublin was established in 2016 under the leadership of Managing Director Lorna Jennings. Since then it has experienced rapid growth working with multinational clients in the fields of corporate affairs, government relations and strategic communications.