One of the most significant benefits of belonging to the PRCA Ireland is that employees can access the Membership Assistance Programme (PRCA MAP), now in its third year.
Similar to an Employee Assistance Programme (EAP), the PRCA MAP is 100% Free, 100% Confidential and available to PRCA employees 24 hours a day, 365 days a year, with immediate help and support in managing whatever work or personal issues they may be facing. Employees of PRCA Ireland – especially new employees – are invited to attend a 30-minute seminar at 1:30 pm on Tuesday 8 November to hear about the range of available supports, together with full details of how to register for the free service, and how to connect with counsellors.
Details of the event are with the PRCA Agency leaders.  If you wish to attend, please contact your agency leader for details.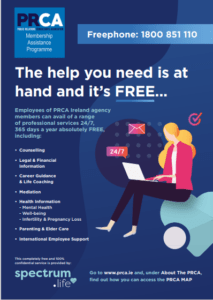 Topic: PRCA Ireland Membership Assistance Programme introduction
Time: Nov 8, 2022 01:30 PM London