The PRCA Membership Assistance Programme (PRCA MAP) is a free, confidential counselling service that provides support to employees of PRCA Ireland member agencies.
The PRCA MAP is available 24/7, 365 days a year covering:
Counselling
Legal Information & Financial Information
Career Guidance & Life Coaching
Mediation
Health Information including Mental Health Well-being, Infertility and Pregnancy Loss
Parenting & Elder Care
International Employee Support
And More…..
PRCA Membership Assistance Programme A4 Poster 2023;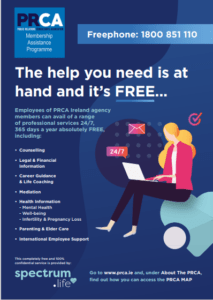 Full details of the assistance programme, provided by Spectrum Life, is available to employees of PRCA Member agencies in the following two guides:
A Guide to the PRCA Membership Assistance Programme and;
A Guide to the PRCA MAP (Mental Well-Being).
To Access the PRCA MAP directly:
Freephone: 1800 851 110
You can also contact the PRCA MAP service through the online portal.
Here you will find a chat and call back function, along with access to hours of additional wellbeing content.
Register for the online portal below.
Organisation code: PRCAMAP