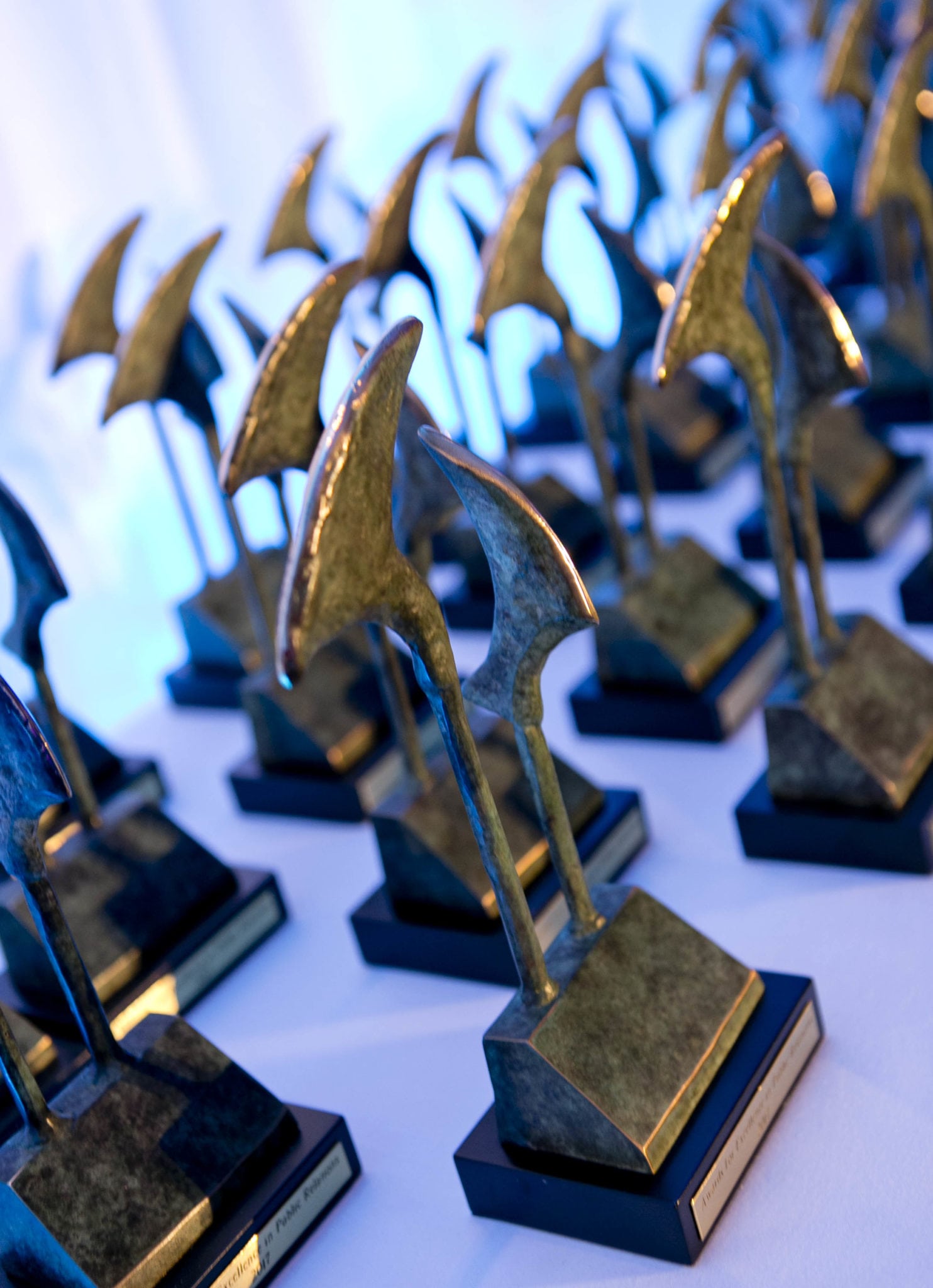 For the past 28 years The Awards for Excellence in Public Relations, hosted by the PRCA (Ireland) and PRII, celebrate the very best of Irish Public Relations and Communications work over the previous twelve months.
Our panel of judges, led by Neasa Kane-Fine FPRII, have been working hard over the last few weeks, assessing what they tell us are an exceptional set of entries this year. Now, they have finished their deliberations and the 2021 shortlist is ready for publication!
More organisations than ever before entered the competition across the 27 categories. The new category Best Integrated Campaign has been very enthusiastically supported, while the Young Communications Professional of the Year category continues to show that the future of the profession is in talented young hands.
We thank all our judges for their hard work and dedication over recent weeks and express our gratitude to Awards sponsors Fennell Photography (In-House PR Team of the Year), Paragon and RuePoint Media (Best Issues-Led Campaign).
Our Awards ceremony will be coming to you live from the Round Room at Dublin's Mansion House on Friday 25th June 2021.  Details to follow.
In all 59 campaigns have been shortlisted as follows:
'Future FET', a new 5-year strategy for Further Education and Training
Alice PR & Events
SOLAS, the Further Education and Training Authority
"You can't furlough an elephant" – Save Dublin Zoo campaign
Teneo Ireland
Dublin Zoo
100consent: Be 100 percent or it's not consent
Pluto and Buck & Hound PR
Dublin Rape Crisis Centre
100kin30days for Breast Cancer Ireland
Lynfort Communications
Breast Cancer Ireland
20×20:If She Can't See it, She Can't Be it
Wilson Hartnell
Along Came a Spider
A communications response to COVID-19
RCSI University of Medicine and Health Sciences
Adapting to COVID-19: On the frontline of Essential Retail
Tesco Ireland
AIB Backing Club and County #TheToughest – Grassroots to Inter-County GAA
Wilson Hartnell
AIB Group plc.
AIB Future Sparks Series
Wilson Hartnell
AIB
ALONE National Support Line
Limelight Communications
ALONE
An Evening Celebration of Northern Ireland: Embrace a Giant Spirit
Jago Communications
Tourism Northern Ireland
An Garda Síochána Jerusalema Dance Challenge #GardaJerusalema
An Garda Síochána
Asthma awareness Week 2020
Etch Communications
Asthma Society of Ireland
Bord Bia – Getting Ireland Hooked on Quality Irish White Fish
Murray
Bord Bia
Bord na Móna: The Road to Green
MKC Communications
Bord na Móna
BTYSTE 2021 – Europe's Largest STEM Exhibition Goes Virtual
Hanover Communications
BT Ireland
Building the 'Bridge Back to School' for the Autism community with SuperValu
FleishmanHillard
SuperValu
Covid-19 Crisis Communications
Gibney Communications
Aldi Ireland
Delivering employee engagement in a virtual world
Ernst & Young
Driving the recovery of the Out of Home (OOH) advertising industry
Heneghan
Kinetic
Energia – Creating 'PositiveEnergy' through an Irish Rugby Anthem
Legacy Communications
Energia
Energia Get Ireland Growing
Legacy Communications
Energia
Establishing Life Effects to Support Patients in Ireland #MakingCaringVisible
Wilson Hartnell
Teva Pharmaceuticals Ireland
Food For Ireland – Tackling food insecurity during Covid-19
Wilson Hartnell
FoodCloud
FRCs: Supporting Families During the Covid-19 Crisis
Alice PR & Events
Family Resource Centre National Forum
Google Supports Recovery of 60,000 Small Irish Businesses
Methods+Mastery
Google
'Gutcast': The first IBD podcast in Ireland
Wilson Hartnell
Janssen, the pharmaceutical companies of Johnson & Johnson & the Irish Society for Colitis & Crohn's Disease (ISCC)
HSE National Press & Media strategic and operational response to Covid-19
Health Service Executive (HSE)
Ibec's Public Affairs Response to the Covid crisis
Ibec
Irish Life Health Runuary, I will run January, it won't run me!
Galvin Sports Management
Irish Life
Keeping Our People Safe from COVID-19
An Garda Síochána
Let's Get It Done– Reopening Chadwicks Group Branches after lockdown
Teneo Ireland
Chadwicks Group
Limerick 50 Days of Summer campaign
Limerick City and County Council
Lyre's Non-Alcoholic Spirits – Market Launch Ireland
Legacy Communications
Lyre's Non-Alcoholic Spirits
Make A Break For It
Wilson Hartnell
Fáilte Ireland
McDonald's – Building a Business and Brand of Trust
Wilson Hartnell
McDonald's
Multilingual Campaign to promote Enhanced Illness Benefit for COVID-19
Department of Social Protection
Nestlé Ireland: Force for Good
Weber Shandwick
Nestlé Ireland
No Stigma
St Patrick's Mental Health Services
Northern Ireland: Embrace a Giant Spirit
Jago Communications
Tourism Northern Ireland
Our Festive Focus
Teneo Ireland
Focus Ireland
Pandemic Unemployment Payment (PUP) – Emergency Income Support
Department of Social Protection
Raising Xylem's profile and voice, to match its business leadership
Edelman
Xylem
She Doesn't Deserve A Break
Legacy Communications
Amgen
SME Recovery Ireland Campaign
Instinctif Partners
SME Recovery Ireland
Sold A Pup
Dogs Trust Ireland
Springboard+ 2020
Alice PR & Events
Higher Education Authority
SSE Airtricity Eco Explorers Club
Edelman
SSE Airtricity
Still Here: Combatting domestic violence during Covid-19
Department of Justice
SuperValu Check This Out – Value and Quality – SuperValu Own Brand Products
FleishmanHillard
SuperValu
SuperValu Christmas 2020: Christmas Like No Other
FleishmanHillard
SuperValu
'Support Our Secretaries' Campaign
Pat Montague and Persuasion Republic
Fórsa Trade Union
Tackle Your Feelings
Wilson Hartnell
Rugby Players Ireland
The GAA Museum Remembers Bloody Sunday
ETC, the Events, Tourism & Communications Agency
GAA Museum,  Croke Park
The ICCRA campaign on the Government's carbon emission reduction plan
Weber Shandwick
Irish Car Carbon Reduction Alliance
Tullamore D.E.W. Virtual Snug
Jailbird Communications
William Grant & Sons
Vhi's sponsorship of the Vhi Virtual Women's Mini Marathon
Teneo Ireland
Vhi
Your Cough Could Be Masking Something Else
Edelman
Irish Cancer Society
Zero Covid – Keeping Chanelle Pharma Covid-19 free during the Pandemic
MKC Communications
Chanelle Pharma
IN-HOUSE PR TEAM OF THE YEAR SHORTLIST
Sponsored by Fennell Photography
An Garda Síochána
BoyleSports
Department of Justice
RCSI University of Medicine and Health Sciences
Tesco Ireland
Trócaire
PRCA AGENCY OF THE YEAR SHORTLIST
Alice PR & Events
Edelman
FleishmanHillard
Walsh:PR
YOUNG COMMUNICATIONS PROFESSIONAL OF THE YEAR
Katie Boyle
Paul Clifford
Phillip Costigan
Amy Hacon
Thank you to our category sponsors:
Rue Point Media  – Best Issues-Led Campaign
Fennell Photography – Best In-house PR Team of the Year

For the 2021 PR Awards for Excellence:
The 2021 Awards for Excellence in Public Relations were launched on 3 December 2020.
The Awards, now in their 28th year, are run by the PRCA Ireland and jointly hosted with the PRII.
Deadline for Entries: 2 March 2021
A briefing on 'How To Impress The Judges' and for prospective Young Communications Professional was held online on 3 December, recordings of which will be available shortly.
The Awards brochure detailing the various categories, including a new category for Best Integrated Campaign, entry requirements and rules is available here in PDF.
We thank our sponsors:
Paragon Print; RuePoint Media – Best Issues-Led Campaign; and Fennell Photography – In-House PR Team of the Year
To look back at previous winners please go here.

Best Practice Guidelines for Entrants are available here. These guidelines are based on feedback from the judging panels.
You can also view the PR Awards for Excellence brochure here.
Declaration forms should be included with your entry: here
Highlights from 2019 Awards for Excellence in PR